Breast Reconstruction - What is it
Breast is the ultimate, eternal symbol of femininity. Nowadays, its' loss is considered a form of mutilation. Consequently, post- mastectomy breast reconstruction is the dominant current trend worldwide.
Breast cancer is by far the most common cancer in women. Approximately one tenth of all women will suffer by it throughout their lives. Aggravating factors are early menarche (before 11 years), late menopause (after 54 years), late first pregnancy (after 40) and family history of one or more first degree relatives affected by breast cancer.
Indications
Depending on the cancer type and the individual case's requirements breast reconstruction can be performed either immediately after mastectomy or as a second operation (delayed reconstruction) at a later stage.
Technique
A crucial factor necessary for the success of the operation and of the whole course of treatment is the close cooperation between the plastic surgeon, the breast surgeon, the oncologist and possibly the radiotherapists and the psychologists. Each patient must be treated individually, according to her specific needs/ demands.
In breast reconstruction the patient plays an active, key role in decision making regarding the course of her treatment.
Advantages
The aim of breast reconstruction is to create a breast as symmetrical possible to the contralateral breast in terms of shape, volume and dimensions.
Sometimes it is necessary to perform some type of mammoplasty (augmentation, lift or reduction) to the healthy breast too, in order to achieve breast symmetry.
In the final stage, under local anesthesia,  the nipple- areola complex is restored.
Cost
For further information on the cost or to book an appointment, contact the doctor.
Possible Risks
haematoma, slight breast asymmetry, infection, implant extrusion
Breast Reconstruction - BEFORE/AFTER PHOTOS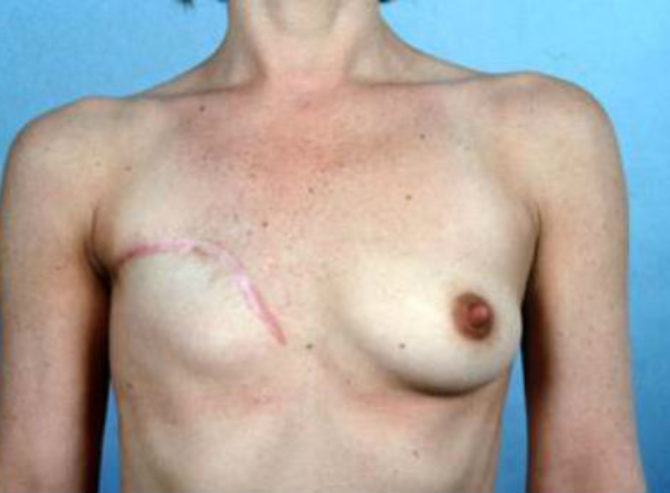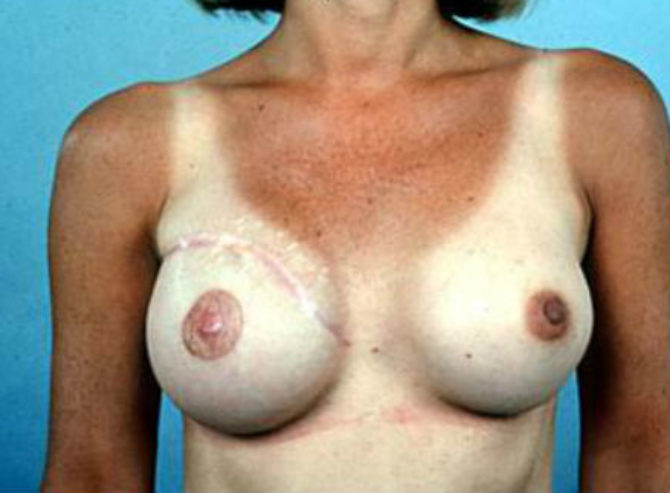 Breast Reconstruction - PHOTOS